Thank you for visiting iHeart Hudson Valley!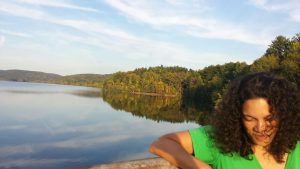 Being a self-described hermit, the idea for this website came to me in a flash. What better way to force me to get out and experience new things than to create my very own platform requiring it? I have lived in the Hudson Valley now for the last 20 years, and I realized there is still so very much to see and do. The sheer variety of both landscape and activity, along with the culture of living so near one of the greatest cities on Earth, is what I love most about this area.
This site is very eclectic, as am I. It is meant to be explored, and to inspire your own exploration. It is about personal experiences, meeting new people, and finding new places and things to love. On my path of exploration, I run into many local businesses doing great things for us here in the Hudson Valley. This site is also a great way to promote them and share their products with people who may not know they are out there. These local businesses are the backbone of our community and we should support them!
I hope you will come along on this journey with me, and even strike up a conversation. While I tell you about my experiences, I also want to hear about yours. Together, we can tell the world why iHeart Hudson Valley.
-Robbie
P.S. Have something great to share or a recommendation for somewhere we should check out? Email us at info@ihearthudsonvalley.com