ICF is a well-balanced combination of privacy on a uniquely beautiful 54-acre property with a complete full-service equine training facility. The professional and supportive staff and only 15 stalls give us the ability to offer individualized attention for each rider and horse combination. Longevity of health, physically and mentally, is the goal of all training at ICF. Whether your horse is a current FEI competitor, a youngster just starting, an older schoolmaster or not currently in competition, we are concerned with the quality of the daily experience of horse and rider.
Training goals are specific to horse and rider combinations. Each client will be involved in an ongoing candid discussion of personal goals for him or herself and that of their horse(s). The core belief at Inner Circle Farm is classical Dressage training for any horse at any level. It is imperative for good communication to exist between horse and human for learning to take place. Therefore, detailed attention is paid to kinesthetic body awareness on the part of the rider, and ensuring that the horse comprehends what is being asked of him.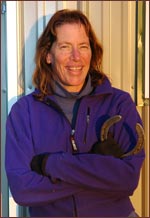 Laura ParkerOwner/Trainer/InstructorAs an owner, trainer, and instructor, Laura has over 40 years of serious and professional experience in loving and learning with horses. Although currently training Dressage horses of all levels, Laura has been involved since her teens as a professional show groom, stable manager and/or assistant manager of facilities in the Westchester area of New York such as Sleepy Hollow Country Club and Bear Ridge Stables. This led to a position at Pace University, where Laura became the Assistant Director of Equine Studies/ Director of non-credit Riding and taught as a faculty member until her first child was born. Laura's early interests included showing in the hunter/jumper ring particularly in Adult Equitation. Her love for Dressage was coupled by early success in her twenties+ showing clients horses as well as her own.
Location
40 White Hawk Trail, Patterson, New York 12563

Login To Write A Review.
Sorry, you don't have permisson to post a review.