Guest post by Tamlyn Oliver
Ever heard of Otter Creek Preserve in Mamaroneck? This unique nature area is just off the Boston Post Road in Mamaroneck but due to limited parking and signage seems fairly unknown in the region. However, as the largest tidal wetland designated and protected as a nature sanctuary in Westchester County it is well worth finding and visiting. Unfortunately, mud and ticks were abundant when I visited in April and May so either visit in dryer, colder months or be prepared with boots and proper attire.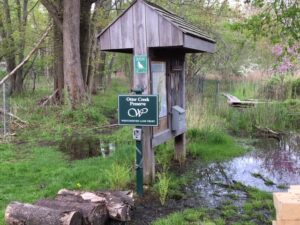 I heard about Otter Creek when I received an email from the Westchester Land Trust requesting participation in an Earth Day spring clean up effort. I signed up not because I wanted to spend two hours pulling invasive vines but so that I could see the preserve and learn more about it. I was not disappointed.
The preserve is situated on Long Island Sound, surrounded by residential areas and the Mamaroneck Beach & Yacht Club. In addition to a large salt marsh, it boasts a mix of coastal waters, wooded wetlands, vernal pools, and edge habitats. It is also home to migratory birds, marine life, insects, reptiles and amphibians, fish, and mammals. A WLT employee told me that within the preserve you will find 90 percent of the remaining productive salt marshes in Westchester County. This sobering statistic makes me very grateful for organizations like the WLT.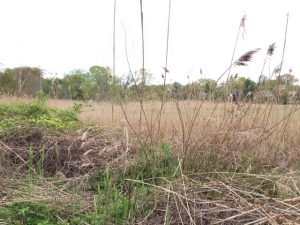 I did not get to see much of the 35-acre park (due to the boot-sucking mud) on either of my visits but what I saw was enough to warrant a third trip when it stops raining every other day. There is a short, fairly well-maintained trail with a boardwalk, which they appear to be extending. Despite the conditions, the trail seemed popular with dog walkers, which are allowed on leashes. I also saw bird watchers and was told that over 100 species of birds have been seen on the site, which includes an osprey nesting platform.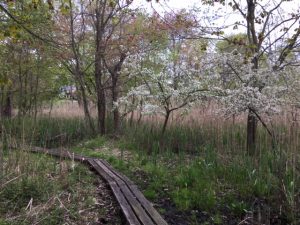 WLT, which is based in Bedford, owns and allows public access to almost 800 acres in Westchester. Most of their preserves appear to be in northern Westchester, which probably explains why after weeks of asking I have not met a person in southern Westchester who knows about Otter Creek or the Westchester Land Trust.
Otter Creek Preserve is fairly easy to find. I did not initially see the sign when I visited so drive slow and if you get to a cul de sac you have gone too far. Take Boston Post Road to Taylors Lane and go 0.5 miles, past the 'Private Road' sign. Near the end of Taylors Lane, the preserve is visible on the right side of the road. Parking is on the right along the split rail fence.