Event Expired.
Sorry, Event has been expired.
3-Part Plein Air Painting Workshop with Dorrie Rifkin at City Winery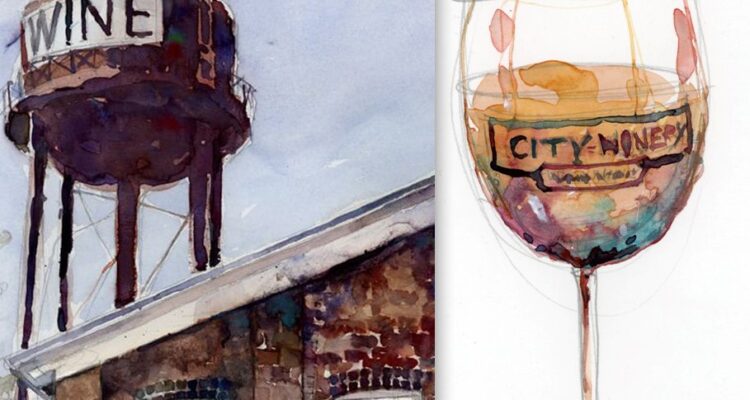 Join iHeart Hudson Valley and the Wallkill River Arts School at this wonderful artistic event!
Grab your sketchbook or a sheet of watercolor paper, and paint outside with award-winning watercolorist Dorrie Rifkin.  In the morning we will be painting at the beautiful City Winery – Hudson Valley. In the afternoon, it's lunching and sampling wine in City Winery's elegant and rustic interior space.
All levels are welcome. If you've always wanted to try your hand at watercolors but didn't know where to begin, this is the workshop for you: Dorrie is great with beginners. If you're an advanced beginner or intermediate, she'll help you strengthen your design skills and take your paintings to the next level.
This workshop will cover equally the steps of designing, drawing, and painting. Participants will learn to create strong compositions, execute a solid underlying sketch, and paint effectively.
Classes will be small, so there will be ample time to help students work toward individual goals. The lessons will be conducted to foster artistic camaraderie and will feature gentle instruction, and upbeat, constructive, and above all, friendly, critiques.
Schedule
I. Introduction plus One Point Perspective lesson — via Zoom:
Thursday, August. 5 @ 6:00 pm – 7:00 pm
II. In-Person Class (Workshop date):
Thursday,  August 12 @   9:00 am – 12:00 pm Class with Dorrie
Thursday, August 12 @   12:00 pm — Lunch
Thursday, August 12 @    1:00 pm — Wine tasting
(Rain date to be held on Aug. 19 following class cancellation)
III. Happy Hour Zoom Critique:
Thursday, August 26 @ 6:00 pm – 7:00 pm
[NOTE: All Zoom sessions will be recorded and be available to enrollees for approx..4  weeks.)
—————
Location
City Winery – Hudson Valley
23 Factory Street
Montgomery, NY 12549
—————
Price
Regular Price:                                 $160
Wallkill River Arts Member Price:  $145
Wine Tasting Only:                         $35
—————
About Dorrie Rifkin
An Englewood, NJ, resident, Dorrie Rifkin paints from her passions. Thirty years of experience as an award-winning art director ignited and cemented a life-long love affair with typography.  Her other passions — music, New York City, and family – are palpable in her work. Every painting has a personal story.
"I'm lucky to live near the City, and spend a lot of time there," Rifkin says. "Usually, I bring a camera or sketchbook. Running out of things to paint would mean that I am not doing much of anything with my life."
Every painting has a personal story. Her paintings have won more than 30 prizes, many in international and national juried shows, and are exhibited in private collections, worldwide.
Dorrie was featured in the article "Ones to Watch," Watercolor Artist (December 2010), and her work was selected for Splash 14, 15, 17,18, 19 and 20.  Her painting, "Leaving the Highline" was selected for the cover of Watercolor Artist Magazine (February 2015). She is a signature member of the Transparent Watercolor Society of America, and the  Northeast, Pennsylvania, Philadelphia, Garden State Watercolor Society,  New Jersey, and Baltimore Watercolor Societies.
To contact Dorrie's or see her work:
e-mail: drifkin@dorrierifkin.com
website: www.dorrierifkin.com
etsy: www.dfrdesign.etsy.com
facebook: dorrierifkin
instagram: dorrierifkin