Event Expired.
Sorry, Event has been expired.
Esopus Creel Presents a Fly Fishing Film Double Feature in Phoenicia, NY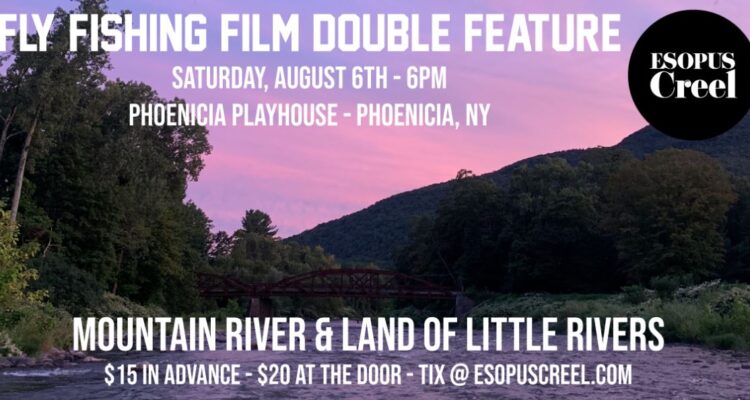 Join this special one-­time screening of two locally made feature documentary films that explore the history and characters of fly fishing in the Catskills
Esopus Creel will be hosting a one­-time screening of the documentaries "Land of Little Rivers" and "Mountain River – The Esopus Creek: Headwaters to the Hudson" at Phoenicia Playhouse on Saturday, August 6th, 2023 at 6PM
The "Land of Little Rivers," a network of tributaries in the Catskill Mountains of New York, is the birthplace of fly fishing in America and the mecca for resident and visiting anglers obsessed with the sport.
Fishing legends such as Joan Wulff, the "first lady of fly fishing," and Dave Brandt, the preeminent fly tier and authority on traditional Catskill fly tying, convey the angler's passion, from the art of casting the perfect loop, to the sport's origins where secrets are fiercely guarded by local anglers.
Uplifting and warm, this beautifully shot documentary delves into the lives of fly fishers, the wounds they heal, the bonds they form and the history and conservation they preserve in the sport they love.
View the Trailer for Land of Little Rivers below:

Land of Little Rivers: a documentary fly fishing film from Cinema Libre Studio on Vimeo.
"Mountain River," follows the Esopus Creek, from its headwaters on Slide Mountain in New York's Catskill Mountains, to the Ashokan Reservoir, and on to the Hudson River at Saugerties – a fascinating journey of 65 miles.
The film is filled with personal stories and anecdotes and features a lively mix of vintage and contemporary photographs and images. Footage includes interviews with New York City and New York State experts, local historians, and conservationists, as well as on-the-creek fly fishing plus stories from anglers and residents. Extensive aerial footage offers a new perspective on the Esopus, the Ashokan Reservoir and the Hudson River.
View the Trailer for Mountain River at: https://vimeo.com/ondemand/mountainriver/396223924
___________________________
Q&A with the filmmakers will follow each of the screenings. Raffles for gear and outdoor goods will be held for guests. Beer from West Kill Brewing and snacks will be available at concession.
The film is being screened in association with Esopus Creel, Phoenicia's first dedicated fly shop in over 25 years, and The Jerry Bartlett Memorial Angling Collection, an open circulation reference library focused on the history of fly fishing in the Catskills.
Tickets can be purchased at: https://www.esopuscreel.com/events/fly-fishing-double-header