Event Expired.
Sorry, Event has been expired.
Intro to Cyanotype Workshop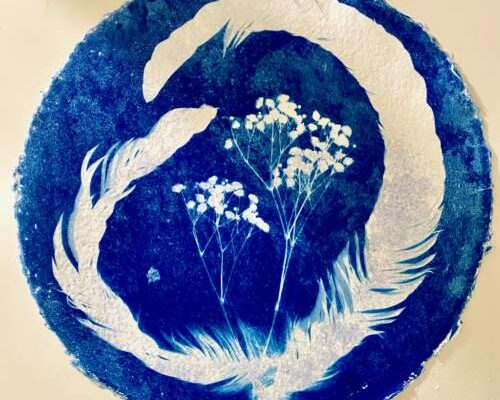 Join us for Studio 89's first Cyanotype (AKA sun prints or blueprints) workshop with Hudson Valley Multidisciplinary Artist, Helen Gutfreund.
Also provided will be a brief history of the cyanotype medium, a look at some historical and contemporary use of cyanotype, an overview of the materials used, a materials list for your future reference, and lots of play time after which you will have made two unique cyanotype prints to take home.
Workshop Date: Saturday, May 14
Rain Dates: Saturday, May 21 or Saturday, June 4
Time: 10 am-1 pm (please arrive 10-15 minutes early so we can start and end on time)
Age: Adults only
Level: Beginner
Participants: Up to 10
Fee: $55 includes 2 9"x12" professional quality papers pre-coated with photo emulsion for you to keep, and use of artist's collection of objects and supplies such as feathers, fabric flowers, salt, glass clip frames, and more.