If you are a horse person, Inner Circle Farm is the type of place that you look for when you want the best both for yourself as well as for your horse. Sitting on top of a mountain in Patterson, NY the views are breathtaking. There is a calm and a peace here that is felt almost immediately both by humans and their equine partners. Walking down the aisles, you see happy horses, relaxed, and at peace.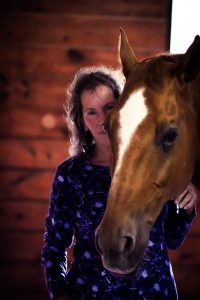 Owner Laura Parker has been working with horses for over 45 years. She opened Inner Circle Farm in 2000 on the current 55-acre property. While the farm has always offered a balanced approach in its care and training, it is only within the past 2 years that Laura's true dream of a creating a complete holistic healing center for both people and horses has come to pass. There are ongoing offerings of various spiritual programs for people in the farmhouse event center, as well as hands-on lectures and riding clinics throughout the year for the betterment of both horse and rider. Some recent clinics they have hosted are: Sound Journeys with Kundalini Yoga teachers, Justin Ram Das and Lynx Livtar Logan; The 3-part Equine Integrative Medicine Seminar with Dr. Jennifer King, DVM; and the twice-yearly Fix Your  Dressage Test with USEF "R" Judge: Lori Barnard.
Offering 15 stalls for boarding and training, there is a relatively large staff per horse than what you find in most barns, thus ensuring horses are truly being focused on as individuals with care that is catered to each horse's specific needs. All stalls have their own windows which allow for excellent airflow through the barn, and in the winter, the barn is heated which is a nice luxury. There are 14 paddocks for turnout, a large indoor riding ring, an outside dressage ring, and a huge outdoor jumping ring as well.
Having held multiple Director positions at Pace University and holding a master's degree from NYU in motor learning and kinesiology, Laura uses her knowledge of human motion and multiple riding disciplines to provide a unique point of view when training her students. Maintaining an open-minded attitude, Laura works closely with her students to provide as individualized of a program with them as she does with the horses. Whatever you are looking for, from FEI level to beginner, all disciplines to trail riding, she is ready to help you in your journey.
"The comfort and the consciousness of this place is really what I am committed to"
– Laura Parker